Hey yall!
It's that time again...time for the Bright Ideas Blog Hop!
In our classroom, we have books. We have lots of books.
We have baskets upon baskets upon baskets of books.
And I love for my kiddos to have access to all those wonderful books.
But there are some books that I like to keep hidden away in a little drawer...
That's right...I hide some of my books from my students.
Why?
I hide them because they are special...they are books that I use to teach!
And I want to keep them in nice condition, hence the need to hide them from those eager little fingers.
I have a very simple system that I use to organize all those wonderful books for teaching specific lessons.
I keep them all in this little filing drawer in my teacher cabinet. I organized them by topic and put them in hanging file folders.
Need books on plants? Check the drawer.
Need books about Earth Day? Drawer.
Need books to teach nouns? Yep....they're in there!
Here's some close-ups of the tabs.
Each file holds books that I will want to use when I'm teaching a specific topic or holiday, so I don't have to spend time looking through the shelves.
Notice how they are not fancy or cute....just simple, yet effective.
Here's an example of some of the books that are in my "1st Week of School" file.
I meant to snap a few more pictures of books that are in other files but it was Friday afternoon and....well, you know how that goes!
I told you it was a simple system! I hope that you might find it somewhat useful.
Now, for more useful teaching tips and bright ideas, check out Kindergarten Smorgasbord!
Greg is going to show you how to make something that is a must in every elementary classroom...glue sponges!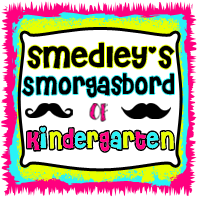 Or you can just use the linky below to find another bright idea!
Happy hopping, yall!